The Great Southwest Prayer Center is located inside the Ministry Building of Grace Fellowship Church. It was consecrated as a community prayer room by pastors in the city on January 17th, 2007.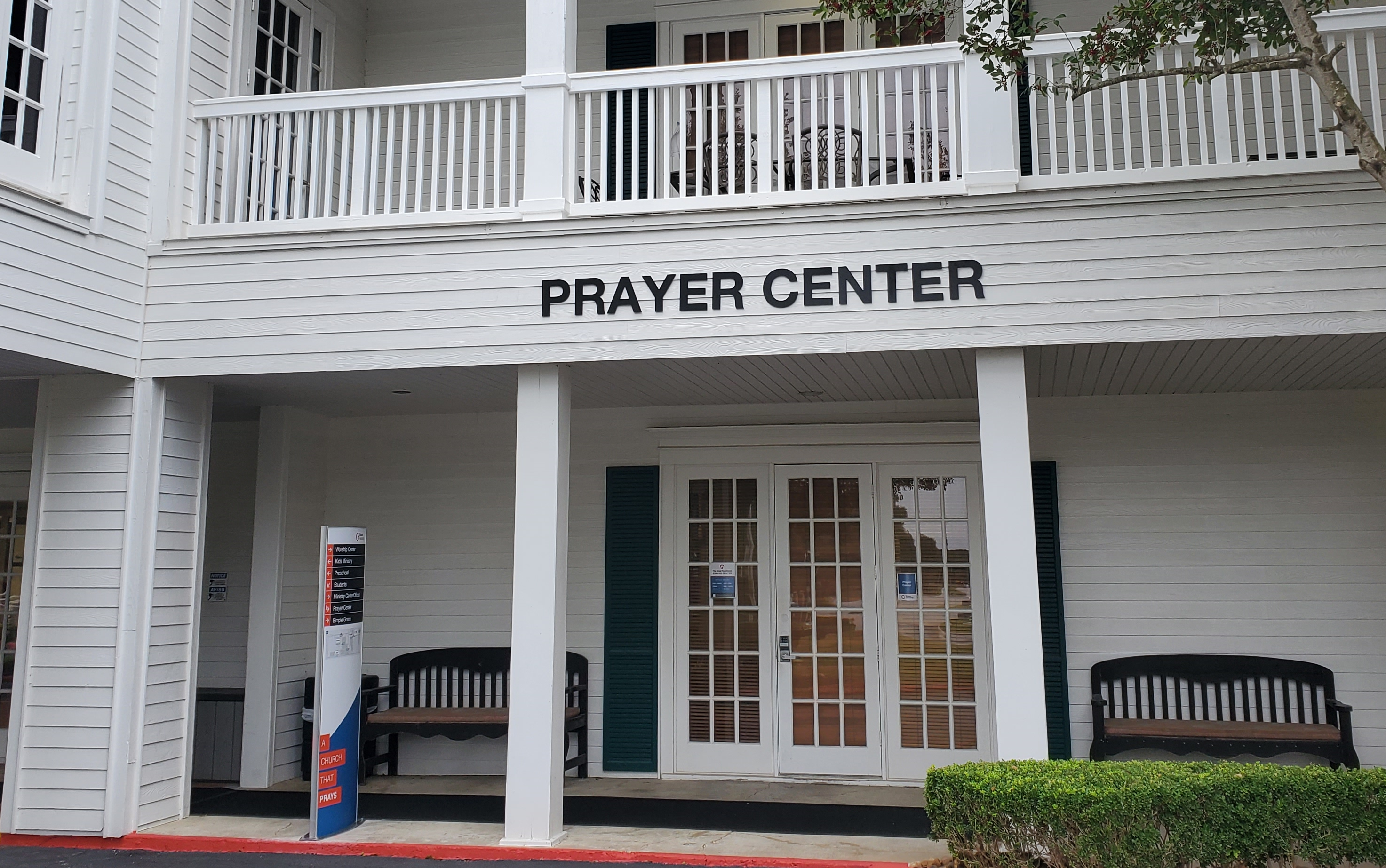 Prayer for Our City & Country
Praying the Names of God
In the GSWPC are many prayer stations to encourage and enhance prayers for the church, the city of Katy, the United States, the nations, our leaders, healing, freedom, and much more. There are two prayer rooms. The War Room and Jordan's Crossing are cozy, peaceful places to retreat and spend time alone with God. These rooms may be reserved. If you like praying in the evening, night, or early morning, a larger prayer room, the Moravian Room, is available 24/7 with a convenient bathroom. The Moravian Room cannot be reserved. The Great Southwest Prayer Center also houses Audience of One or A1: live worship and prayer to our Audience of One. We desire that one day this will happen 24/7.
All are welcome to come, sit, pray, worship Jesus, and read their Bibles, regardless of denomination or church affiliation. We encourage people to come, step away from their pursuits or even ministry for a time, and engage in the prayer & worship taking place here, and encounter God in a refreshing way.
Follow us on Facebook to see our activities and watch our live feed.
Worship & Prayer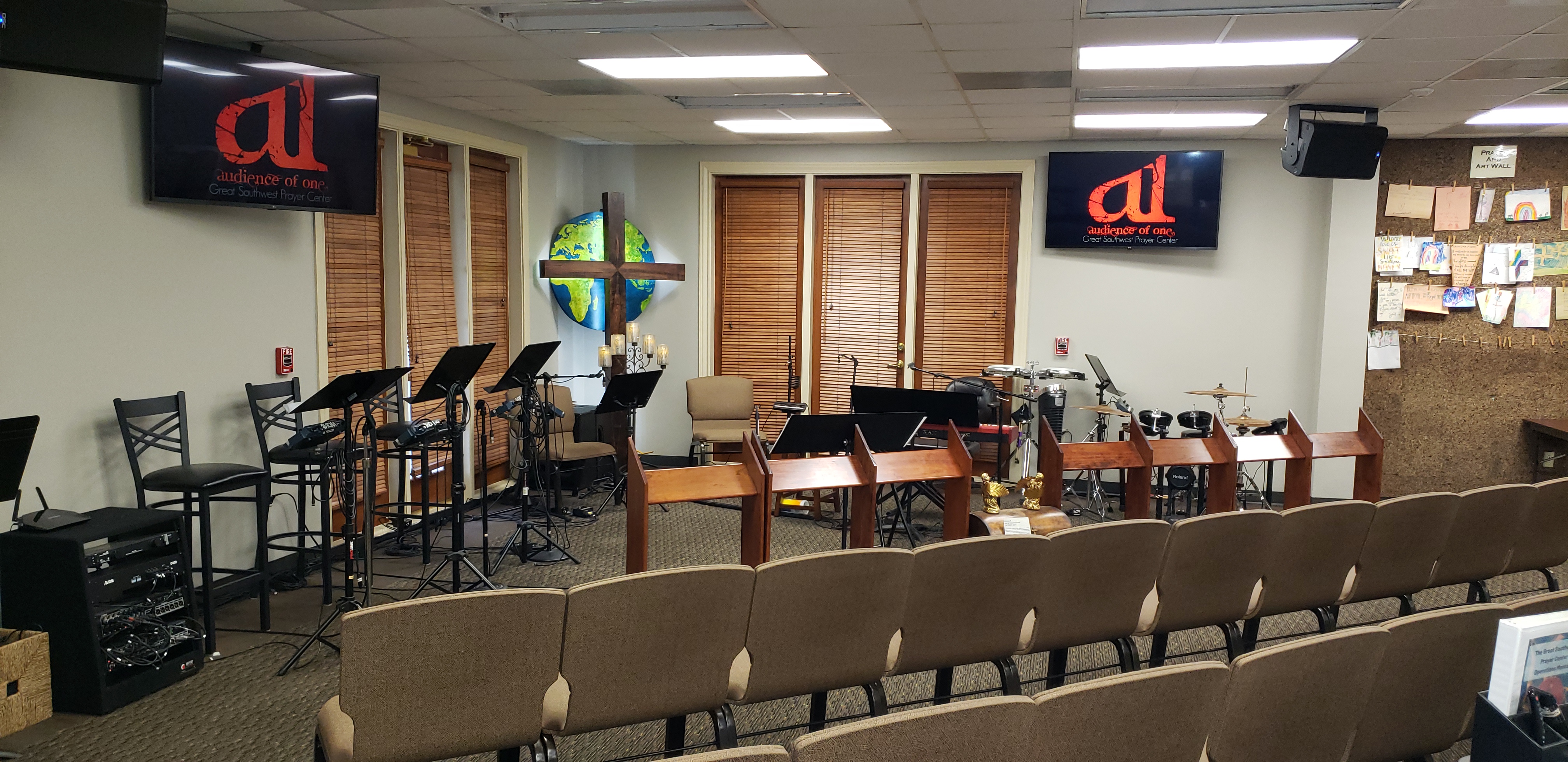 Prayer Through Art
Prayer for the Nations
The Moravian Room
This room is a prayer room and an entryway into the rest of the Great Southwest Prayer Center. The Moravian Prayer Movement was an entryway into Methodism and the modern-day 24-7 prayer movement. The primary features of this room remind us of the Moravians. The first thing that strikes you in this room is the couches facing one another in the community. The Moravians were great people of community living together in a community they called Hernnhut. This room contains the fireplace and the Leviticus 6:12 Scripture. This was Count Zinzendorf's favorite Scripture and symbolized their entire movement: "Let the fire on the altar never go out!" This room contains a prayer station for revival and the pouring out of God's Spirit. If the Moravians are known for anything, it is for the revival that they experienced and spread… all coming out of what is known as the Moravian Pentecost. This room is available 24-7 for prayer. The Moravians conducted 24-7 prayers for 110 years straight. Lord, we are naming this room "The Moravian Room" because we desperately desire for You to do in our midst what You did amidst the Moravians… and even more! You may obtain the access code into the Moravian Room by submitting an agreement form to us.
Submit an Agreement Form for 24/7 Access to the Moravian Room
Jordan's Crossing Room
Jordan's Crossing is a small private prayer room and is an invitation by God to take our promised land. It represents the time in the life of God's people when they will have to rise up and take their promised land. Just as Israel had to face their giants, while God's hand dealt with each one, so will we--with the promised assurance that God guarantees our victory if we will trust Him. It is in doing this, that we will truly enter into His rest (Joshua 1:13). The primary features of this room are: (1) a sculpture of our Christ with the crown of thorns reminding us of the crucifixion of our flesh that we are invited (with Christ) to put to death; (2) an iron sculpture of "The Lamb's Rest" depicting our victory in Him (Galatians 2:20). View the Jordan's Crossing calendar to see the room availability.
The War Room
Jeremiah 33:3 says, "Call to Me and I will tell you great and mighty things that you do not know." This is our invitation to call out to God and then listen to Him speak to us. This room houses our telephone prayer bank 281.398.2GOD from 9am– noon, Monday through Friday. Trained intercessors will answer phones to pray with others, retrieve online prayer requests from the Prayer Wall, write prayer notes to our congregation, as well as make calls through our church directory just to pray with our people. The other hours, this room is available for people to have a private place to pray alone or with others and do Jeremiah 33:3. View the War Room calendar to see the room availability.